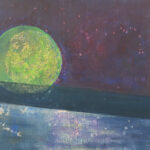 Gill Lucas works primarily, but not exclusively, in oils. Her aim is to represent emotional and physical sensation and to capture her visceral responses in her work.
Gill has used the lockdown period to interpret images that have moved her during 2020, and in doing so she has begun to work abstractly with the aim of capturing her engagement with the original image.
She says of her work for this show, which is shown chronologically, "For most of 2020 I was based in the density of highly urbanised London. Lockdown meant that opportunities for long, open vistas found by walking on the coast or in the countryside were initially restricted but, when allowed, were dazzling and delightful. The experience was similar to emerging from a mundane, confined everyday space into an open world of fresh air and colour.
"The first piece was painted as it became clear that the quotidian impact of Covid-19 was unlike anything I had previously experienced," Gill explains. "It seeks to conceptualise the potential global impact of the pandemic. The subsequent works are more localised and offer abstract interpretations of the experience of being by the coast and in the countryside — in Sussex, Northumberland and Scotland — which I hold dear."
Gill began her creative journey 12 years ago, initially exploring ceramics and subsequently developing her practice to focus on drawing and painting.
Instagram: @gilllucas5