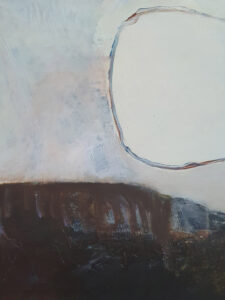 Working in both oils and acrylics, Octavia Milner paints abstract landscapes.
Current work is becoming increasingly ambiguous and sculptural as the process of painting itself takes over from the original inspiration, which is usually one of Octavia's own drawings, watercolours, sculptures or photographs. Made outside, these are often of disintegrating natural and industrial structures and their natural surroundings.
A series of work develops as Octavia works on several canvases at once. Ideas are explored through the process of making the work. Paint is put on and then scraped off repeatedly until "a painting surprises me when I see it". Paintings are linked by the time and circumstances in which they are made.
These six paintings were made over the past four months in a makeshift studio in Octavia's father-in-law's house in Alton, Hampshire. Her initial aim was to make work from six objects, hastily chosen from her collection of found materials. However, after making the first painting the others followed on without outside stimulus as she allowed herself to respond more directly to what was happening on the canvases. The paintings became more distilled and direct, reflecting the circumstances that she was living in and the pandemic lockdown.
Octavia's use of white continues to be a notable feature in her work. In the past it represented water and stones; in these six paintings the white shapes seem to have more to do with the concept of space and absence.
Octavia trained as a Textile Designer and later as a Speech and Language Therapist. She now combines working as a professional artist with being involved in two Community Art Groups.
Website: Octavia Milner
Instagram: @octaviamilner