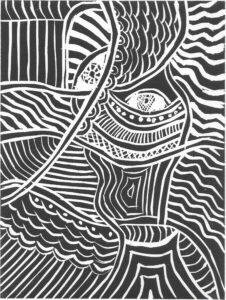 Terry Barber works across painting, collage, sculpture, printmaking and installation, taking inspiration from pareidolia, found objects, non-traditional materials, myths, stories and forgotten histories. The resulting images and artworks are unexpected, atmospheric, uncanny or ethereal, and often appear to be in a state of flux between presence and absence.
During the first lockdown in May 2020, Terry embarked on a self-set challenge to produce a 'doodle a day', exploring the concept of drawing without intention as a form of mindful escapism. With a long-standing interest in pareidolia – the tendency to see faces, creatures or objects in random patterns – many of these drawings inevitably suggested faces, masks or fantastical beasts. Their strong graphic quality with a tension between positive and negative space reminded her of illustrations in books she had enjoyed as a child, so she developed them into linocut prints, the scoring and cutting providing a sculptural feel to the images.
After a career as a journalist on a wide range of magazines, Terry graduated two years ago with a First in Fine Art and has since been concentrating on establishing her studio practice.
Website: Terry Barber
Instagram: @terrybarberartist
Twitter: @terryscribble