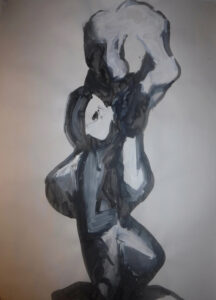 Tabitha Peake started this series at the beginning of the first lockdown in 2020. Like everyone else, she was forced to limit her movement and work in her immediate surroundings, so the new body of work was made in her home instead of the studio.
Tabitha took her inspiration from hands-on touch, using clay and closing her eyes to form figures. This became a tactile and instinctive process. From the small, hand-held sculptures she developed the figures into drawings and paintings.
Alongside this work Tabitha also produced a series of oil paintings: self-portraits and portraits of fellow nursing colleagues.
Tabitha has been a nurse for 20 years and specialises in HIV care. During the pandemic she was redeployed as a nurse. She lives in Catford, London, with her husband and two daughters.
Instagram: @tabitharpeake